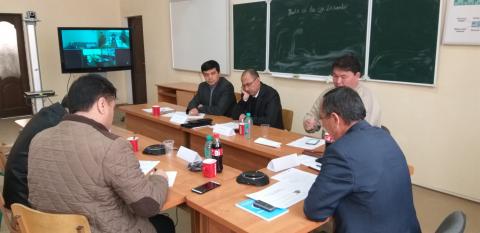 The 3rd UZDOC 2.0. Uzbek Local Coordination Board (ULCB) meeting in the framework of UZDOC 2.0 project - Furthering the quality of doctoral education at Higher Education Institutions in Uzbekistan (Erasmus + Key Action 2: Capacity Building in Higher Education- Structural project grant agreement number: 2016-3796/001-001) was hosted and organised by Karshi State University on December 4, 2018.
The projects' local coordinators and partners from Karakalpak State University and Namangan State University traveled to Karshi to participate in the meeting. Partners from Samarkand Institute of Economy and Service, Tashkent Chemical-Technological Institute and Tashkent Financial Institute participated through video-conference.
All the topics on the agenda of the 3rd ULCB have been discussed. The participants reflected on the reforms of doctoral education in Uzbekistan and on the recommendations concerning the measures which should be undertaken in the next activities.
Furthermore, the Uzbek partners discussed the questions concerning the Model Joint Doctoral Programme, the organisation of the virtual doctoral center linked to the preparation of the guidelines for the cooperation between Uzbek Higher Education Institutions.
The organizational modalities of the last year activities have been discussed and the specific tasks for Uzbek Higher Education Institutions have been defined.